home
:: glossary of terms
Stripper Parts
The Stripper can be installed on any conventional shaft driven boat or saildrive boat. Both installations consist of a rotary cutter that has two or more blades matched to the number of blades on your propeller and will rotate with the propeller. To form a scissor action there has to be a stationary or fixed cutter blade that the rotary blades pass.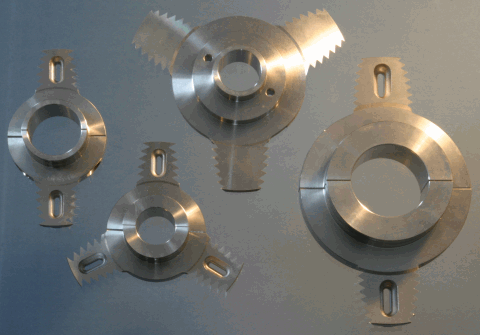 The rotary cutter forms the main body of the Stripper and can consist of 2, 3 or 4 blades.
With conventional shaft Strippers the rotary cutter is machined to match the propeller shaft size diameter, with the fixed cutter, bearings and clamp ring all mounting onto the body of the rotary cutter.
This image shows from left to right
AM10 - 2 blade rotary cutter
AM10 - 3 blade rotary cutter
3 blade saildrive rotary cutter
AM20 - 2 blade rotary cutter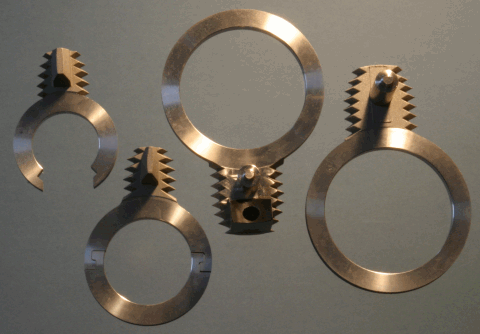 The fixed cutter consists of one cutting blade mounted and held in place between two white bearings.
The conventional shaft Stripper fixed cutter is prevented from rotating by the Striker plate (see below), the saildrive Strippers have a locking pin that extends into the saildrive leg.
This image shows from left to right
AM5 fixed cutter
AM10 fixed cutter
Volvo 120 saildrive fixed cutter
Yanmar saildrive fixed cutter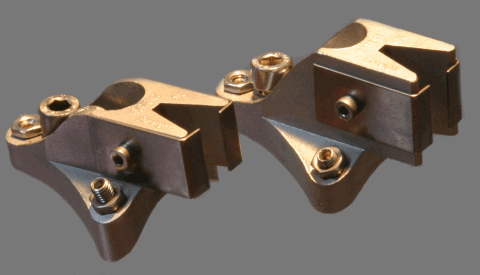 The Striker plate is used to stop the fixed cutter from rotating on a conventional shaft Stripper, it is mounted onto the P-bracket or stern gear via either 3 locking bolts or via a custom built clamp kit.
This image shows from left to right
AM5/AM10 striker plate
AM15/AM20 striker plate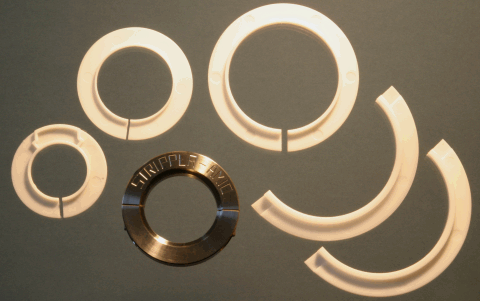 All Strippers have bearings, these are white circles of Delrin that go either side of the fixed cutter, they are the only wearing part of the Stripper. Replacement bearings are available in our service packs
The bearings and fixed cutter are held in place on the conventional shaft Stripper by a clamp ring.
This image shows from left to right
AM5 bearing
AM10 bearing
AM10 clamp ring
AM15 bearing
AM20 bearing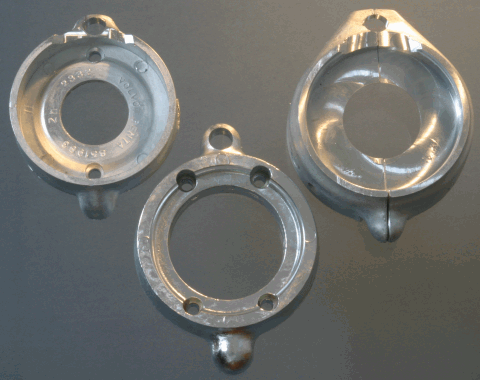 Saildrive legs often have several anodes attached to them, the main anode that the manufacturer installs mounts between the back of the saildrive leg and the propeller.
This is where the Stripper is located, we therefore provide modified anodes that are compatible with the Stripper. Sea water anodes are made from Zinc, fresh water anodes are made from Magnesium. Anodes are designed to last approximately one season, but this life can be increased or decreased by many factors, most notably the material and size of the propeller. Large bronze propellers can reduce the life of an anode considerably.
This image shows from left to right
Volvo 120 zinc anode
Yanmar zinc anode
Volvo 130/140/150 anode